Stefanie Iris Weiss Says Go Green And Have Eco-Sex This Earth Day!
If you're new here, you will want to sign up for my newsletter to get FREE dating ebooks and mp3s along with exclusive seduction tips and videos. Thanks for visiting!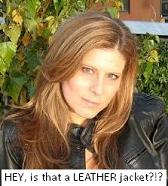 Today is Earth Day…
Hoo-freakin'-ray!!!
And on this joyous day I ask you…
How 'green' is your love life?
In reality, I could give two sh!ts and a f**k…
…but I'm going to take this opportunity to talk about someone who cares…
…and that is Stefanie Iris Weiss, author of the recently released book,
"Eco-Sex: Go Green Between the Sheets and Make Your Love Life SUSTAINABLE"…
You can check out her book by clicking here…
So what is some of Stefanie's earth-nurturing dating advice?
Go to a restaurant where you can eat a seductive menu based on organic, local food, which has produced less carbon dioxide before it ends up on your plate…
F**k that, it sounds EXPENSIVE! I'm going to keep taking my dates to Taco Bell…
Hop on your bike for your next date and leave your car at home.
Wear comfy bamboo underwear.
Umm… NO and OUCH!
Don't be so keen on having babies. How about adopting a child instead or implementing a one-child policy?
DAMN… I'm more eco-friendly than I thought. I've got a NO-child policy!
And what's her earth-hugging alternative to that little blue pill older guys use?
People should eat oysters as an aphrodisiac instead. They are a full of zinc, a precursor of testosterone. Casanova himself was known to eat them in great quantities before sex.
I think there's some effeminate guys in this seduction community who should be eating more oysters rather than licking pearl necklaces off themselves…
…and FINALLY some advice I actually LIKE:
Stop excessive spending on Valentine's Day.
There you go, some awesome "eco-sex" advice that will make the earth and your dick more happy…
Now go show Mother Nature some love and go hump a tree knot…
Just make sure you get to the tree before Stefanie chops it down, grinds it into pulp, and makes a book about being eco-friendly with it

It's casual,
Mack Tight