Stop Scapegoating And Take Responsibility Of Your Life
If you're new here, you will want to sign up for my newsletter to get FREE dating ebooks and mp3s along with exclusive seduction tips and videos. Thanks for visiting!
Way back on April Fools Day I made a satirical post called "Does Money, Height And Age Matter With Women"…
The 3 questions in that post are REAL… in fact, I get similar questions weekly from readers…
Here's the general format…
Hey Mack,

I've been thinking that [insert excuse] is keeping me from being successful with women.

I believe this because I've seen/experienced [poor attempt to validate excuse].

I'm right, ain't I?

-[excuse maker's name]
So what's going on here…?
It's actually quite simple…
The person is trying to pin their lack of success with women on something they have no control over, like…
…being short…
…being old…
…not being born rich…
…women being "bitches"…
…etc, etc, etc, etc… you get the drift…
They are fishing for someone of authority to pat them on the back and say "it's ok bro, it's not your fault you suck with women"…
What I don't understand is why they contact me regarding this…
There's already a million forums, YouTube channels and chat rooms dedicated to whiny bitchboys who encourage each other to make excuses and be pussies…
If you don't think it's your fault that you're not getting laid… you can just fuck off for all I'm concerned…
I'm not going to waste my time with you…
Go take your scapegoating pity-party elsewhere…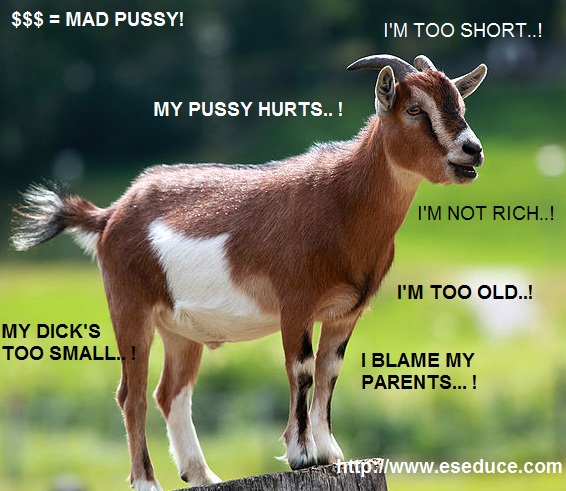 The biggest step in improving my "game" was finally coming to terms that I was solely to blame…
If you can't admit you're wrong, I can't help you and you're not going to get better…
Stop playing the victim card…
Stop feeling sorry for yourself…
No one fucking cares about your bullshit excuses… no one wants to hear them…
Don't email me looking for sympathy, because you're not going to get it…
I'm not going to argue with you or validate myself to you… because I don't care…
Each of us were born with pluses and minuses when it comes to attracting women…
This whole "PUA" stuff is about improving the pluses and minuses that can be improved…
…And accepting and getting over the minuses that you can't…
You need to do some soul-searching…
Do you want temporary pity… or do you want to face your pain and improve for the rest of your life?
I really hope it's the latter…
It's casual,
Mack Tight
P.S. - I wish someone would have told me this 7 years ago… I had to find it out the hard way…
Here's some more about my prior struggles with getting better with women that you can probably relate to:
* The Victim Mentality
* Quit blaming others for your lack of success