Your subscription request has been received…
Very Important! You must confirm your request to receive your free Brad P Interview and ebooks. You must also stay subscribed to keep receiving new free ebooks and videos in the future.
Here's how to confirm your request:
Go check your inbox for an email with the subject line "RESPONSE REQUIRED: Confirm your subscription"
Once you find that email just look for this line "EASY 1-Click Confirmation:" and click the link below it.
Once you do that you will be sent to a page where you can instantly download your free Brad P Interview, ebooks and bonuses.
Make sure you stay subscribed because we send out MORE FREE ebooks, MP3s and videos to you on a regular basis!
Here's what the confirmation email looks like: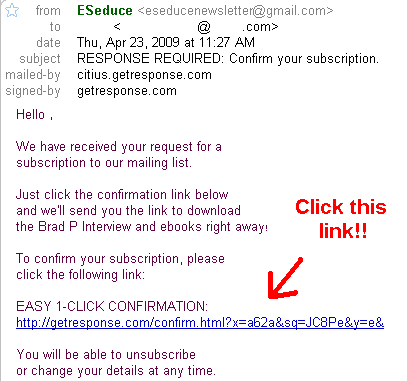 You MUST click on the confirmation link in the email in order
to receive your newsletter and all the free bonuses.
In addition to confirming your subscription, we ask that you do this right away:
1) Please add the name "ESeduce" and: "eseducenewsletter@gmail.com" to your address book. This is one of the criteria AOL and some ISPs use to determine which email to let through.
2) If your email uses a "whitelist", "safelist," or "approved list," please add our email address eseducenewsletter@gmail.com to it. This is what Hotmail and it's partners use. You'll find your Hotmail safelist under the "Options" link.
3) If you find that you are not getting our newsletter, please check your "bulk mail" or "junk mail" folder. Some systems "learn to recognize approved senders." If you go through your spam, junkmail, or bulk mail folder, and move email from an approved source to your Inbox, many systems will allow subsequent email from that source through. This was the way Yahoo! Mail works.
On some systems there is a "this is not spam" button or checkbox that you need to use.
Click here to go back to your previous page…