The 21 Convention Interview with Dream
If you're new here, you will want to sign up for my newsletter to get FREE dating ebooks and mp3s along with exclusive seduction tips and videos. Thanks for visiting!
The 21 Convention takes place this coming Thursday through Sunday, July 23-26.
It happens in Orlando, Florida and includes one of the biggest and best lineups of popular PUA and fitness speakers all for one low ticket price.
Obviously the highlight for many will be Matador from VH1's "The Pickup Artist" show.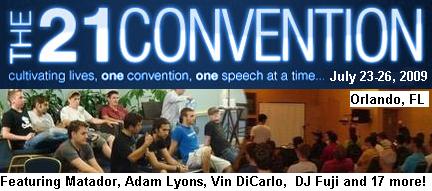 The convention is put together by Dream, a young and ambitious PUA from Orlando.
I got an opportunity to send Dream some questions and concerns I've had about The 21 Convention… and he was gracious enough to answer them for me…
Hopefully his answers will take care of any questions you might have about The 21 Convention too…
Here they are… (my questions are in bold, Dream's answers aren't)…
_____
Mack Tight: I'm not sure a lot of my readers know a whole lot about you, can you give them a brief introduction to yourself and your involvement in the seduction community?
Dream: Sure man. I go by Dream but my real name is Anthony. I was absolutely miserable with women growing up- that is, until I found the community. I found MASF my senior year of high school and have been working at it ever since. In the summer of 2006 I realized there weren't many guys my age (17 at the time) involved in the community, or "good" for that matter. I knew there had to be guys my age that were skilled, so I proposed the idea to host a convention for guys my age in Orlando. The idea took off on the old MM forums, literally everyone wanted in. A year and a lot of risks later, the 2007 "under 21″ conventon took place in Orlando. Only a few guys speaking were under 21-myself included @ 18. Many stuck with the U21 theme though- despite most audience members being in their mid 20's, or even older (we had one dude over 50!).
Right after the convention I began hosting workshops with my room mates in Project Orlando (which I stopped a few months ago to focus on the convention). I later released a book on meeting women titled The Dream Way, went on to host the 2008 21 Convention, traveled across the country to meet the world's best, and so on. Man, its amazing how fast time passes. I also founded the central Florida lair not long ago after the other lairs in Florida fell apart.
Would you tell us a bit about The 21 Convention that you put on each year?
The 21 Convention is the bastard child of TED.com and Askmen.com (well, assuming Askmen had hordes of useful information). It's the world's best and biggest event that centers around lifestyle and dating advice. By far, attending live is the best investment you could possibly make concerning success with women. It's 4 days long, and only $250 dollars. This kind of value for that affordable of a price is completely unheard of.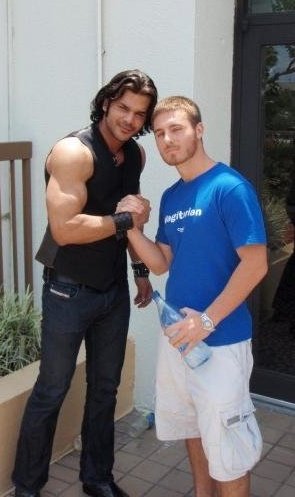 Who is going to be at The 21 Convention this year?
Damn…where do I begin lol? The best bet is to just take a peak at the ticket page, but to "name drop" a few
Matador
Nick Sparks
El Topo
Adam Lyons
Vin Di Carlo
Julian Foxx
Nathan of RSD
Manwhore
Adonis
Dj Fuji
…
Over 20 speakers this year.
How assessable were the speakers in the past (will I be able to get a cool picture of me with Matador like you did) and how interactive with the audience are the presentations?
Ha, maybe. Yeah both years literally all the speakers were totally cool. They are always willing to chat, take pictures, answer questions, and so on. The only catch is some may be SWAMPED with people (Matador?) and not all speakers will be around before/after their speeches (Nathan from RSD has a workshop in Orlando that weekend for example). The entire event is 100% audience friendly. Participation is ENCOURAGED, the more questions the better (if you have a ton try to save them for the end of the speech though, or write them down and ask them during our ultimate Q and A panel of all remaining speakers at the end of the event).
I see this year it is now called "The 21 Convention" instead of "Under 21 Convention" from years past. I still have that "under 21″ stigma in my head though… I'm 33 year old, am I going to feel like a creepy old guy whose crashing a frat party if I go to this and is the material going to be relevant for someone my age?
LOL, yeah the under 21 stigma has really stuck with the event. The convention was NEVER intended to exclude anyone, 22, 33, or 53. It was just the original idea- an idea that is cooler on paper than in real life (it's really really hard to find guys that are good and under 21). Never the less, Im still 20 myself and try to find other guys my age that are good with women as well. But, the vast majority of speakers are well over 21, and while a few speak about "college game", most topics are non-age specific. The 21 Convention is now the name to keep the old "jingle" in the title, and is a number of speakers to shoot for every year.
How easy is it to get a relatively cheap airline tickets and a hotel in Orlando on short notice? Any suggestions for airlines or hotels?
I'm personally a fan of Kayak.com, they compare hordes of airline fares for you. As for the hotel, I recommend staying at the same hotel the convention is hosted at. It's only $99 a night, you'll obviously save on cab fares (its downtown near all the clubs/bars), and its really really nice. They renovated it 2 years ago and its seriously luxurious for less than $100 a night.
[Editors note: The convention is at The Crowne Plaza of Downtown Orlando. The phone number is (407) 843-8700 and the website can be found by clicking here.]
I imagine most attendees will be partying at night. How is the nightlife in Orlando for the under and over 21 crowds?
Many bars and clubs downtown are 18+, they just give wrist bands to those over 21. The night life is awesome- more than enough for me to make some 4,000 approaches in 2 years time. Wall Street is a favorite of mine, but really there are dozens of spots to hit. We'll also be hosting volunteer "approach-a-thons" for newbies at night. Experienced attendees will be giving short speeches on approaching/opening, we pair people up, and head out for the night.
Do you have any surprises lined up this year?
Aside from the approach-a-thons (kind of killed the surprise didn't I?), yes. Well, hopefully yes. There is a "mystery" speaker that is very, very likely to attend, but I can't name him yet. He will not be filmed or recorded in any way, but he willl not be someone you want to miss ;).
Where can people get a ticket for it?
They can just visit the ticket page from right here on your site and sign up via paypal. Tickets are $299.95 until June 22nd, and then they will slightly rise in price. Just print the ticket and bring a form of ID.
Thanks Dream!
Thanks man, I appreciate your time.
_____
With the added "approach-a-thons" that Dream mentions, it is almost like a huge 4-day convention with 21 speakers AND an added infield "bootcamp", all for less than $300!
How can you beat that!?!
Check out The 21 Convention site now and get your tickets before they go up on June 23rd!