The Asian Playboy featured in AsianWeek
If you're new here, you will want to sign up for my newsletter to get FREE dating ebooks and mp3s along with exclusive seduction tips and videos. Thanks for visiting!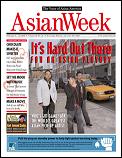 APB was in a feature article called
"Proselytizing 'the Game'" by David Shaw in the 2/8/08 edition of AsianWeek.
It was a well written article that was very supportive and open-minded about the seduction community.
Here's an excerpt from the article:
Born in Texas as Jerry Tran — the Asian Playboy aka "APB," or as he prefers to be called, "JT" — studied aerospace engineering at the Florida Institute of Technology before becoming a professional social swinger. "For me, it was graduating from college, and I go out to California and realize I just sucked [at my social skills]," Tran explained. "So, I decided to do something about it."

He turned to what he knew best as an engineer: research, self-education, and reverse-engineering the social protocols and processes in the nightlife scene.
It sounds like I have a lot in common with APB. I'm an engineer too who realized he had social issues once he left the social circles of college and was out on his own.
Maybe I should refer to myself as "SPB" for The Swiss Playboy

No, it just doesn't sound as good.
You can check out APB's blog here.