The Importance of Men's Shoes - Fashion and Style Guide
If you're new here, you will want to sign up for my newsletter to get FREE dating ebooks and mp3s along with exclusive seduction tips and videos. Thanks for visiting!
I confess, I was clueless about the importance of shoes in men's fashion.
I wore worn-out basketball shoes everywhere. They even had duct tape
holding them together!
I now consider shoes the MOST important part of my wardrobe.
Here's Mark Belmont, author of The Handsome Factor male fashion program,
with tips on what shoes to wear and when…
******
Your shoes, perhaps more than any other accessory or item of
clothing, say a lot about you. Perhaps that's because there's a
type of shoe for every outfit, every person, and every occasion.
For the athlete, there's the Nike running shoe. For the
business man, the black dress shoe. For the casual dude, the
skate shoe.
But really, any man serious about looking good needs to have a
few great pairs of shoes. You don't need to spend a fortune, you
just need to have three or four nice pairs at any given time.
To begin, a pair of black dress shoes is a must-have. These are
your go-to shoes for weddings, funerals, job interviews, and any
time you need to wear a suit. I suggest black because it works
with all colors, but if you wear a suit to work regularly then
you'll probably want a few pairs, one of which could certainly be
brown. If you're really adventurous, grab a pair of gator skin
loafers!
Secondly, if you participate in any kind of physical activity,
you need a running shoe. These shoes are designed to take a
beating, so you can wear them without worrying about scuffing
them or doing a bit of damage. They're not about fashion, and I
don't recommend wearing running shoes when you're doing anything
other than lifting weights, running, mowing the lawn, etc.
Lastly - and this is where most guys have the most trouble - you
need a couple pairs of casual shoes. I say "a couple" because
you will probably need two, although some guys may be able to get
by with only one. Others will need three or four for different
outfits or seasons.
Casual shoes are designed to work with jeans, slacks, and
sometimes shorts. They're an everyday shoe for the student and
those who work in casual environments. For everyone else,
they're a weekend shoe, designed to be worn when you're out on a
date or catching a movie with friends.
This style of shoe is difficult for a lot of men because it
needs to match your general style of clothing. In my program, I
outline a number of different fashion styles to which most men
adhere. Each fashion category has its own style of shoe.
On weekends, for example, I like to dress casually, yet
reasonably fashionably. I wear Polo shirts, Guess jeans, and
sweaters from Calvin Klein or Armani Exchange. For me, the best
shoes are white or grey European-style shoes from Puma or
Lacoste.
If you're more into the casual skate/surf look, then you're
probably looking for a flat-bottom shoe from Adidas or K-Swiss.
My point is that casual shoes should be consistent with your
overall fashion style - and that can be challenging.
Thankfully for you, my program provides an entire section on
shoes, complete with dozens of pictures. I suggest different
brands and styles for each fashion style, and I also give tips on
how to properly wear and maintain your shoes.
For more information on my program and building a great shoe
collection, visit my website by clicking here.
A recent study conducted by a major men's magazine found that
the item of clothing women first notice is a man's shoes… if
that's not motivation to build a nice collection of shoes, I
don't know what is!
Until next time,
Mark Belmont
PS. One thing I've included in my program that you'll
definitely want to see: which shoes can and can't be worn with
shorts! Nothing is worse than a dude wearing brown loafers and
board shorts…
PPS. Right now I'm offering a 60-day money-back guarantee on
the program, so you've got nothing to lose and everything to
gain! Here's that link to click again.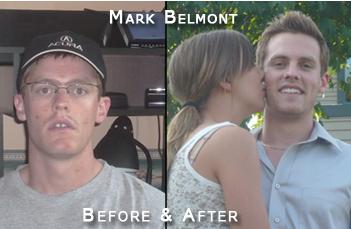 Mark Belmont before & after his personal fashion change: Click here to learn how he drastically transformed his look for the better… and how you can TOO!