The Natural Art of the Pick-Up Review
If you're new here, you will want to sign up for my newsletter to get FREE dating ebooks and mp3s along with exclusive seduction tips and videos. Thanks for visiting!
The Natural Art of Pick-Up is a new product by Stephen Nash AKA Playboy from "The Game"
I was able to get this product a few months back and have listened to and read ALL the material so here's my review…
The Natural Art of the Pick-Up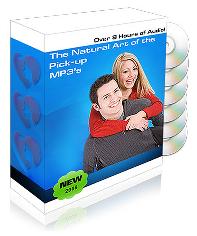 The product consists of roughly 8 hours of audio and an ebook that is roughly 100 pages long.
The ebook is basically a summary of the material covered in the audio. It is well organized and easy to read.
The audio is good quality recorded at 128kbps. Stephen lives in New York and you can hear the occasional background traffic noise but it is infrequent and generally not distracting.
Let me first admit that I'm very anal about audio products.
Instructors who talk like they are reading from cue cards lose my short attention span. If their voice annoys me in any way; it is game over….
I was not familiar with Stephan Nash prior to this product so I was a bit concerned.
Well…
I was very pleasantly surprised by this product!
Stephen is a very good speaker (want proof, listen to his free teleseminars) and The Natural Art of the Pick-Up was very well organized.
He reminds me of David DeAngelo but he doesn't drag things out as bad and this product was overall much more cohesive than a David D product.
The Natural Art of the Pick-Up basically covers all bases from inner game to sex.
Stephen splits it all up in six parts…
* pre-game - inner game/preparation
* engage - approaching/opening
* hook - building attraction
* connect - built comfort
* post-game - seducing
* the big picture - potpourri of uncovered parts and a recap
Along the way Stephen explains each topic perfectly, not too short but not too long.
He gives plenty of examples along the way.
He also mentions a lot of concepts originally created by Mystery and Neil Strauss.
With any good product, there are still some things I had issue with in The Natural Art of the Pick-Up…
First, what exactly is so "natural" about it?!?
I generally don't see how this program differentiates from other more traditional models in regards to being "natural" or not…
I think it is a rock solid program but in my opinion the name falls in the "let's capitalize on the current popularity of natural game" category.
Secondly, it is obvious that this is a recording of the weekly teleseminar series that he put on this past summer…
I don't have an issue with that, but in the future please remove the references that are not pertinent later…
There are mentions of "golden ticket winners" and warnings that people who ask questions need to be timely yet none of this is relevant anymore.
I also wish he would have included the mentioned Q&A sessions in this product.
Finally, Stephen talks about puppy dogs and ice cream way … too … damn … much …
Vince Vaughn's character Trent from "Swingers" would be gravely disappointed…
Seriously, you could make a drinking game out of this and drink every time he says "ice cream", "dessert" or mentions his dog Magic.
I kid… I kid…
In reality I like his ice cream idea for a first date. Everyone loves ice cream and it is reasonably cheap.
It makes more sense than an expensive dinner and the movies.
Stephen does a great job of covering all bases with this product…
He talks about fashion, club game, planning the perfect date, social networking, getting a one night stand, getting a long term relationship, how to go out with wings, how to go out alone, etc, etc…
Stephen covers all the possible options and outcomes in The Natural Art of the Pick-Up.
So many products cover a narrow niche and in my opinion do not even cover that small niche that well…
The Natural Art of the Pick-Up covers numerous niches in surprisingly thorough detail.
I think it is probably one of the most comprehensive products out there and I RECOMMEND The Natural Art of the Pick-Up…
…and a recommendation from me basically guarantees it will now go platinum!
Download and listen to Stephen's free teleseminars about inner game or…
Watch his free 12 rules of natural game videos or…
Cut to the chase and get your copy of The Natural Art of the Pick-Up now…