Nine Ball Book REVIEW ~ Jeff Allen AKA RSD Jeffy of Real Social Dynamics
If you haven't heard, Jeff Allen AKA "Jeffy" of Real Social Dynamics has recently released a new hardcover book documenting his 15 year journey from an angst-ridden maniac to a nihilistic sexually depraved hero.
The book is called The Nine Ball: Confessions of an Angst-Ridden Maniac Who Decided to Get Laid or Die Trying and you can get it now on Amazon for FREE with a free Kindle Unlimited trial, or for less than $6 otherwise by clicking here….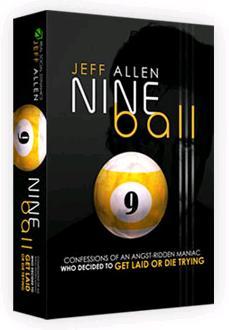 I've read it and it's like a cooler and more hardcore version of The Game with elements from American Psycho and Fight Club mixed in. It's 368 pages revealing his journey through adversity and the misfortunes in his life to become the successful, girl-getting man he is today. It's full of humor and practical advice you can use.
For its low price, you would have to be stupid not to get your own copy.
And to further the American Psycho comparison, Jeff made this fake movie trailer called "American Nineball" to promote the book…
Click here to learn more…