The Nine Ball Book by Jeff Allen AKA Jeffy of Real Social Dynamics
If you're new here, you will want to sign up for my newsletter to get FREE dating ebooks and mp3s along with exclusive seduction tips and videos. Thanks for visiting!
If you haven't heard, Jeff Allen AKA "Jeffy" of Real Social Dynamics has recently released a new hardcover book documenting his 15 year journey from an angst-ridden maniac to a nihilistic sexually depraved hero.
The book is called The Nine Ball and you can get it now by clicking here….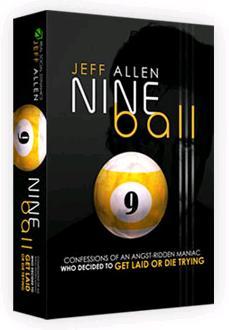 The book sounds like a cooler and more hardcore version of The Game with elements from American Psycho and Fight Club mixed in…
Here's a video of Jeffy introducing the book…
Click here to learn more…