The Part of the Paul Janka Dr. Phil Episode That Paul Didn't Want You to see…
If you're new here, you will want to sign up for my newsletter to get FREE dating ebooks and mp3s along with exclusive seduction tips and videos. Thanks for visiting!
Whenever a guru appears on a show or documentary they usually only put the favorable parts on sites like YouTube to promote themselves.
As far as the Dr. Phil Paul Janka episode, they left out a confrontation with a girl who once dated him.
Her name is apparently Heather Fink and she is a New York comedian.
Here's her video with text added by her…
She adds the following description for the video:
My appearance on Dr. Phil … uncensored, and full of ridiculous sass and attitude.
Here's my opinion on it all:
I find Heather with her glass of red wine and skull shirt incredibly annoying. She reeks of false sophistication and of being a societal trend lemming. She sums up everything I'm not looking for in a woman.
I think she set Paul up in order to get some media exposure and help her comedian aspirations. She basically wrote to several blogs including Gawker about Paul in addition to this Dr. Phil episode.
I think both the best and worst thing about Paul is how he holds his composure and controls his emotions. He doesn't overly react against allegations or become defensive.
But at other times he is emotionless to the point of being boring. The guy seems bland and lacks personality for what I have seen. Does this guy smile or ever say anything funny? In these TV clips he looks like a robot.
Thundercat might think fat guys need pure personality to attract women but I think they should focus on their weight problem while guys like Paul focus on their personality.
I digress once again…
Heather attacks him with the whole "I wouldn't touch your dick with a ten foot pole" routine which we all know is complete bullshit. She made out with him, was surely thinking about him a lot and gave him a booty call when she was drunk.
Paul addressed her masturbation claim by saying it was untrue because it would be an "ineffective strategy". That's a logical rebuttal but it doesn't douse the emotional flames she created.
When she points out that she never actually slept with him he says it is because he met her before his system was "fully codified". "Codified"?!? Just fess up and admit you fucked up at that time, no excuses!
She then brings up that he had sex with hookers which Paul freely admits. I know from male friends and former colleagues who I have talked to candidly that probably 50% or more of all guys over 30 have paid for it sometime in their life. Sex is basically a publicly traded commodity in most countries that are not as Puritanical as the US.
In summary, I don't think this footage was particularly damning of Paul. In fact I commend him for taking the allegations gracefully, keeping his composure, answering the tough questions honestly and actually complementing her when it was all said and done.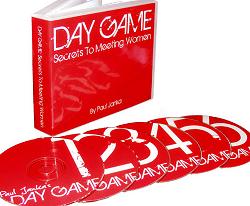 I'm not keen on the whole New York socialite scene so maybe his overall drabness and tendency to be serious is what attracts such women. This girl is apparently a comedian herself and was attracted to his ability to intelligently discuss history, politics and culture. I cannot picture such topics and demeanor being as effective around here in Milwaukee.
Paul Janka has just released his Paul Janka Day Game audio program. Order your copy by clicking here…

You can also get his popular Attraction Formula ebook by clicking here…