The Pick Up Artist S3 CANCELLED?
If you're new here, you will want to sign up for my newsletter to get FREE dating ebooks and mp3s along with exclusive seduction tips and videos. Thanks for visiting!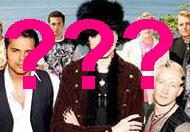 During a recent Sinn and the Cities podcast, Sinn interviewed Speer about Project Miami…
Apparently Mystery, Matador, Speer, Lovedrop and other current and former Venusian Arts instructors were a part of it.
Out of the blue Speer mentioned that there would be NO "The Pickup Artist Season 3"…
He cited Kosmo, the winner of Season 1 and current Venusian Arts instructor, as his source.
The last I heard Mystery & Company were in negotiations with VH1 this past spring.
Is this news factual? What were the reasons for the cancellation? Did negotiations just fall apart?
Will any of the other long rumored reality shows with PUAs come into fruition?
I guess time will tell… and if you sign up for my mailing list I'll let you know as soon as I get more news…
In the mean time…
Visit Sinn's site by clicking here (his Natural Attraction DVD is on sale… get it now…)
Visit Mystery's site by clicking here…