The Real World New Orleans - Ryan Knight the Pickup Artist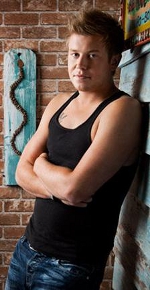 I generally find TV to be a waste of time… especially reality shows…
That being said, there's still a couple that suck me in…
Jersey Shore is one of them…
But Jersey Shore season 2 seems like a real snore so far…
There's only so much Sammi Sweetheart/Ronnie relationship drama and Angelina cockblocking that I can take…
I have a feeling they're stretching a half season's worth of footage into a full season due to the contract negotiations delay…
So that caused me to fall back on one of my other reality TV guilty pleasures…
MTV's The Real World!
This season they're back in New Orleans…
I was glad to see another local Milwaukee person in this season… the last one was Melinda from The Real World: Austin…
Her and the douche she was dating on the show were fucking annoying… I was hoping this Ryan Knight dude would do Wisconsin proud…
At first I was nervous…
He initially came off as a chump with a douchey faux-hawk who no one wanted to room with…
I thought Eric would be the major player this season…
Then Eric totally started chumping out over Sahar…
And Knight played Jemmye like Nintendo…
Way to go playboy! Make WI proud…
Obviously Jemmye wasn't a 10… plus she was "damaged goods"…
But sex is obviously better than no sex…
And he played her using "text book" pickup artist techniques…
He used a lot of sexual framing…
His "days until Jemmye loses her 'white virginity'" was classic…
"We ARE going to have sex!"…
Jon Sinn is a major advocate of this…
She didn't protest when he said it… and they DID have sex…
Mission accomplished!
He handled McKenzie's cockblock pretty well…
He also was good at using push/pull and social proof…
I knew he had her when he was hitting on the cute blond girl in front of her and she got jealous as fuck over it…
That Eric guy could learn a little something from this fat, pasty, ginger white boy…
Stop fawning over Sahar you fucking CHUMP!!!
Knight's laid back, non-reactive, "alpha", and is cocky and funny…
I was looking through the IMDB message boards and I saw someone comment on how "direct" he was…
When he first said he slept with 50-60 girls, I thought he was full of shit…
But I DO believe him MORE than some of the notches claimed by some of these pickup artists in the scene…
I personally find him to be the best roommate this season…
I really hope he starts bangin' some new tail soon though…
Just wait, after I said all this… he's gonna totally fuck up and embarrass me later in the season…
Don't do that to your fellow Milwaukeean bro!
Anyway, check it out on MTV if you get the chance…
So far, it's been much better than the abysmal The Real World: Washington DC…
EVERYONE in that season was fucking annoying as all hell!
I think the reason I like The Real World so much is watching the "realistic" social interactions…
Sure, I'm sure some parts are "staged"… but it's a lot more real than any of that "**** Of Love" crap on VH1…
This is your boy Mack Tight…
Subscribe to my newsletter, "like" my Facebook page, and follow me on Twitter…
It's casual…
PS: Speaking of The Real World… whatever happened with Jon Sinn being a roommate on it?
He was always talking about it… now I think he's too old for their age range…
Also… I find it funny how every PUA "claims" he's getting his own reality show… then jack shit happens with it…
Maybe you shouldn't count your chickens before they're hatched…
I'm sure it's just marketing… but everyone thinks your a chump 2-years later when you can't even get a show on the local public access channel…