Thundercat releases the Secret Seduction Files
If you're new here, you will want to sign up for my newsletter to get FREE dating ebooks and mp3s along with exclusive seduction tips and videos. Thanks for visiting!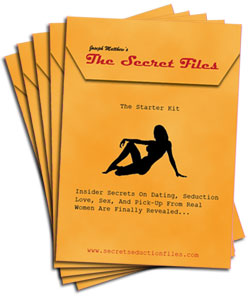 Joseph Matthew AKA Thundercat has released his Secret Seduction Files.
It's basically an interview series where he sits down and picks the brains of various women to get an idea of their experiences when guys try to pick them up. He also asks the girls for their opinions, views and experiences with successful and unsuccessful men.
I've heard a lot of guys tell me that they want to hear the views of women so I think this series is a good idea.
You can go to the Secret Seduction Files site and listen to a free interview and download a free report.
I listened to the example interview last night. It got really good after a slow start. Recently I've been discussing with my wings the prospects of us taking a yoga or pilates class. This girl was a pilates instructor and it was really interesting hearing her talk about her experiences and advice for guys taking such a class.
It seems like Thundercat has found women who understand the seduction community and are willing to spill their guts. He also provides a lot of good bonuses with the program like interviews with Mystery and several other well known seduction gurus.
Check out the Secret Seduction Files.