The Top 10 PUA Products of 2010
'Tis the season for end of year top ten lists…
And I'm starting it out this year with eSeduce's Top 10 PUA Products of 2010…
2010 was a mixed bag…
Some products exceeded expectations by leaps & bounds…
While some just plain bombed worse than Tony Robbin's "Breakthrough" show…
Here's my opinion of the top 10 hottest PUA products released in 2010 based on internet buzz, popularity, reviews and my personal opinion…




---
10. Push Button Dating - Race de Priest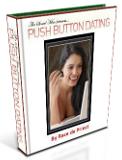 Race & Kelly really hit it big with
Window Shopping For Women
back in 2008…
It came out at the perfect time, when "social networking" really started to boom…
But things changed in two years…
Race & Kelly parted ways… and MySpace is now laughed at…
It was time for Race, now working with Christian Hudson's The Social Man company, to modernize it (can you say "Facebook"?

) and make his own branch of it…
Push Button Dating is that branch, and it focuses on picking up girls on online dating and social networking sites…
Click here to find out more about it… or read my Push Button Dating review…

---
9. Supernatural Seduction - Julian Foxx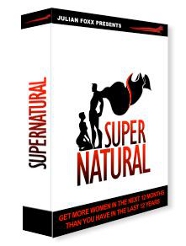 Julian Foxx released a cleverly constructed video in 2009 where he challenged Neil Strauss and 'supposedly' pulled a girl Mystery struck out with…
Julian Foxx is an amigo of Vin Dicarlo…
Dicarlo had a wildly successful product launch (more about that later) just before the release of Supernatural Seduction…
There was buzz from the Mystery video… there was buzz after the successful Dicarlo launch…
The expectations were high…
Were they met?
Let's just say the staged interaction videos came off as a bit "awkward"…
I'm not a fan of video programs with canned "simulated" approaches…
But to each, their own…
You can draw your own conclusion… but I'm ranking it #9…
Watch Julian's FREE "Bait Rape" Video by clicking here… or read my Supernatural review…

---
8. The Guru Black Book - Brad Jackson & Bill Preston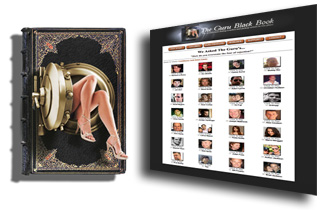 Basically, The Guru Black Book was all about asking a billion "PUA gurus" for their answers to the most basic pickup questions…
Pool it all together, slap a price on it and get all those "gurus" involved to help promote it…
Capitalism at its finest

Click here to find out more about it… or read my Guru Blackbook review…

---
7. Daytime Dating - Jeremy Soul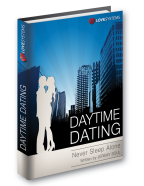 Savoy of Love Systems seems to like having his instructors focus in on one specific pickup niche…
For Jeremy Soul… that niche is day game…
In August, Love Systems finally released Jeremy's highly anticipated day game ebook…
To many, it was a mixed bag…
It was packed with solid day game advice and techniques…
But it clearly did NOT create the buzz that Sinn's Day Game program created back in 2009…
In addition, Soul's use of banal interview questions with women was puzzling and completely contradictory to everything else taught in "the community"…
Maybe it's just a daytime thing & he's on to something!
Click here to find out more about it… or read my Daytime Dating review…

---
6. The Ultimate Guide to Text and Phone Game - Braddock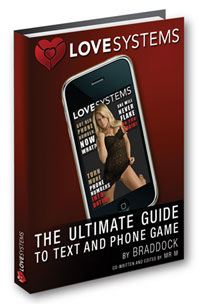 Savoy had been primping Braddock even before the Tyra Banks appearance back in '09…
He was kind of the "Generation Y" instructor of Love Systems… catering to the college-aged tech-savvy guys…
In January, Braddock finally released his highly anticipated Text Game Guide…
And like a stork… it delivered…
Why is it ranked #6 then?
Well, late 2009 & early 2010 was SATURATED with "text game" programs…
And Braddock's guide was just a tad bit late to the party…
Love Systems puts out solid, high quality products…
It's just takes so damn LOOOOOOONNNNGG for them to spit 'em out…
Check out Braddock's guide here… or my Ultimate Guide to Text and Phone Game review…

---
5. The Bad Boy Formula - Carlos Xuma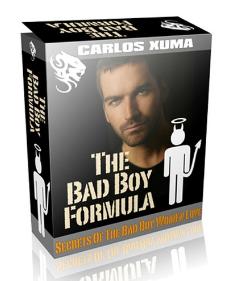 When I close my eyes and imagine my idea of the ultimate "bad boy"…
Carlos Xuma INSTANTLY pops into my mind

I keed… I keed… Please don't use your kung-fu on me Carlos!!!
I for one was just glad that Carlos came out with a product without the word "ALPHA" in it for once…
All kidding aside, "nice guys" suck with women… stop being a "nice guy"… start being a "bad boy" like Puffy & Ma$e… Carlos can help you…
Click here to find out more about it… or read my Bad Boy Formula review…

---
4. B4UTxtHer - Text Game Mastery
-
Race de Priest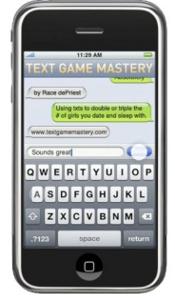 OMG… wat a fckd up name LOL!
Tyler Tray beat everyone to the "texting game product" punchline by over a year…
But Race beat out everyone in this most recent swarm…
It's funny…
Gurus used to preach that texting was for pussies too scared to call the girl…
Don't do it!
Now it's probably the most widely accepted and effective way of communication that isn't in-person…
And gurus are finally teaching how to do it effectively…
Race's program is solid with tons of examples & phone game plans to use…
But contrary to the title of Race's program…
Don't text like a 13 year-old girl with a lobotomy and only one thumb

Click here to check out a free video about it… or read my B4UTxtHer review…

---
3. Conversation Escalation - Make Small Talk Sexy - Bobby Rio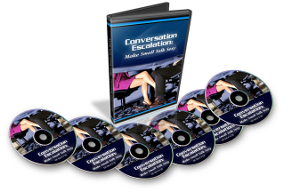 Bobby Rio stepped to the plate with his Make Small Talk Sexy - Conversation Escalation program & Social Labs…
It was a rock solid "conversation" program at a reasonable price…
If you're past any general anxiety issues and just need some solid social calibration & techniques… this course is for you…
Bobby does a great job spicing up his programs with funny self-deprecating stories and witty pop cultural references…
All those boring monotone gurus should take note…
Nobody likes listening to a 13 hour audio program that sounds like it's being spoken by Ben Stein…
And I admit, I've used the "Care Bears stare" line from this program on women a few times myself

Click here to find out more about it… or read my Make Small Talk Sexy review…

---
2. Seduction Roadmap - Jon Sinn

Sinn took over the reigns as the top pickup artist in 2009…
In 2010, he continued his prolific pickup dominance…
That included his BIGGEST product to date…
That was his wildly successful Seduction Roadmap program…
It focused on turning things sexual EARLY in the interaction with women… something he claimed the Mystery Method & other popular PUA systems was seriously lacking…
The response was highly positive…
I interviewed Sinn back in July and got him to reveal a lot of secrets from the program…
You can download the MP3 of that interview and watch a free video here…

---
Any other year, Seduction Roadmap would have been #1…

But 2010 had one MAMMOTH product that took the cake…
---
1. Pandora's Box - Vin DiCarlo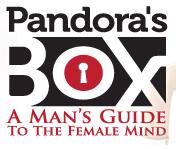 Back in February,
Vin Dicarlo Pandora's Box
was released…
It was HUGE!
The system is based on the concept that there is 8 different "types" of women…
Each "type" thinks and acts differently, and thus you need to go about picking them up differently…
Pandora's Box teaches you how to ask 3 questions to determine which "type" of girl she is…
Then it tells you how to systematically go about attracting her and picking her up based on her "type"…
Guys seemed to LOVE it…
It was so popular, Vin ditched his successful Attraction Code book to make Pandora's Box his new main introductory program…
If you somehow live in a cave and missed this system…
You MUST click here to check out free articles and videos about it…

Or read my Pandoras Box review…
Don't miss out on the #1 product of 2010 (& maybe 2011!)

---
So, here's the final Top Ten PUA Products of 2010 list in ascending order…
1 Vin Dicarlo Pandora's Box
2 Seduction Roadmap
3 Conversation Escalation - Make Small Talk Sexy
4 B4 U Txt Her
5 The Bad Boy Formula
6 The Ultimate Guide to Text and Phone Game
7 Daytime Dating
8 The Guru Black Book
9 Supernatural Seduction
10 Push Button Dating
There you go, do you agree or disagree?
Did I miss any?
If you want your product on my list for next year make sure to
contact me
and let me know about it before you release it.
Just don't contact me EVERY DAY about it, because then I will GUARANTEE it won't be on the list for 2011

Happy Holidays!
It's casual,
Mack Tight