The TRUTH about Neil Strauss & The Game: Penetrating The Secret Society of Pickup Artists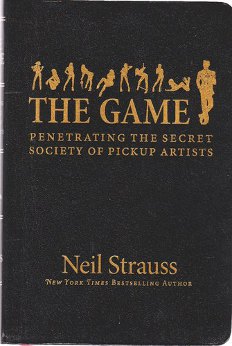 I really can't believe people are still psychoanalyzing Neil Stauss' book "The Game: Penetrating The Secret Society of Pickup Artists" yet TODAY…
This book was nothing more than your cookie-cutter "geek-to-sheek/rags-to-riches" plotline… just with a "nonfiction" pickup artist twist…
I've seen COUNTLESS books and movies with a very similar plot frame… many from WAY before The Game even came out…
Hell, I remember reading "Charlie & The Chocolate Factory" as a kid… that book was much the same under the hood (come to think of it, Mystery dresses & acts maniacal a lot like Willy Wonka

)
Here's some other movies and books with similar plotlines:
* Can't Buy Me Love (film 1987)
* Fight Club (novel 1996, film 1999)
* Being Alexander (book 2002)
* Wanted (film 2008)
Even most of the recent "dick flick" comedies like Old School and Wedding Crashers follow parts of this plot…
** The Geek-To-Sheek Plot Outline **

Exposition:
1) down-and-out chump lives an irrelevant life where he gets shit on by everyone
* show lots of extreme examples of how much his life sucks balls

2) protagonist has a revelation that changes his life, whether it is an event or meeting someone

Rising Action:
3) life gets progressively better, pushing the protagonist out of his comfort zone
* show lots of extreme examples of how much his life now kicks ass

4) cracks form around him, but he's initially oblivious to it because of all the changes in his life

Climax:
5) protagonist has revelation that "all that glitter isn't gold"… realizes he must find a balance between being a self-absorbed asshole and a chump who gets shit on…

Resolution:
6) protagonist lives a fruitful and happy life now that he has learned his lesson that fucking a sea of hot young women without committal is "wrong". Settles down with a girl less hot but with more "substance" and has babies.
Sometimes it involves money, other times pussy… but really, they're all the same…
This plot is wildly successful because people like to root for the underdog…
It also resonates well with both sexes…
You give every middle-aged man living a monotonous life an hour of complete unadulterated fantasy… such as older guys banging hot bridesmaids or nubile sorority girls…
It gives them promise that even though their life sucks today… there's potential that everything could change tomorrow…
Things change after the first hour, and the story wins over the disgruntled women in the final 30 minutes… the guy realizes banging endless hot young girls is "bad", vapid, boring and ultimately unrewarding…
But lets be honest now…
If I was banging girls like Elisha Cuthbert circa 2003, would I REALLY trade it in to settle-down with an Ellen Pompeo with baggage (or Lisa Leveridge in Neil's case)?!
F*CK NO!!!
But it makes the middle-aged women demographic feel better about themselves…
It walks the tight rope trying to accommodate all…
I'm sure Neil knew the book was going to follow this plot-line WAY BEFORE he even stepped foot into "Project Hollywood"…
Neil was a well known writer before The Game…
I'm sure back in 2000, his manager or agent said something to him like "have you heard about this 'seduction community' thing? That would be a lucrative topic for your next book, Neil!"…
And it was!
6 years and several other books later… Neil Strauss is STILL best known for writing "The Game"…
Pickup "gurus" are still talking about it…
But lets be real here… he's WAY ABOVE any of these internet pickup bloggers in regards to society & power…
He's hanging with & interviewing Howard Stern… while other guys in the pickup community are making podcasts in their parents' basements trying to rip-off Howard Stern…
If you think Neil Strauss gives two sh!ts and a f*ck what "Johnny Naughty PUA" thinks of him… you're smoking crack…
Douching on the guy might be good for your "publicity"… but in reality it's like throwing pebbles at The Terminator…
You're not a blip on his radar…
Plus, he already MADE his $$$ in this "niche"…
In my eyes, he was always just a mainstream author who had a great idea of writing a book about the pickup artist community…
Similarly, his book Emergency was him writing about being a survivalist… just no one cared about it…
Criticize the "pickup artist community" how you may… but it ended up being a pretty damn interesting topic to many unfamiliar guys!
Mystery and Tyler Durden might not have the "star power" of Jenna Jameson, Dave Navarro, Marilyn Manson or Motley Crue (all subjects of Neil's other books)…
…But "The Game" is Neil Strauss' most popular book and still in the Top 300 Amazon Book Bestsellers List 6 years later…
Now don't get me wrong… I ripped on Neil back when it wasn't fashionable…
But the truth is, Neil wrote a book that made a lot of $… how can you criticize him for that?
Would you rather write a masterpiece and sell a 100 copies or write a piece of pulp that sells millions?
Ultimately, I think the success of this book says a lot about the topic!
The world DOES find this pickup artist stuff fascinated… as long as it's presented to them in a positive, formulaic, dumbed-down fashion that they're familiar with…
It's casual,
Mack Tight
PS: Did I start out this post ranting about people psychoanalyzing "The Game" and then psychoanalyze it MYSELF?!
Oh well… c'est la vie!

PPS: I guess people are still psychoanalyzing it 6 years later because it's still a bestseller & relevant 6 years later…
PPPS: You can grab a copy of any of Neil's books (including "The Game") at Amazon and save 30-60% + get free shipping…