The Ultimate Guide to Text and Phone Game - Interview with Nick Savoy of Love Systems
If you're new here, you will want to sign up for my newsletter to get FREE dating ebooks and mp3s along with exclusive seduction tips and videos. Thanks for visiting!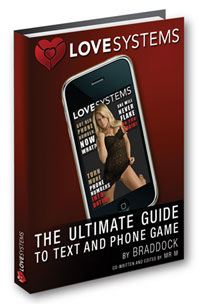 Love Systems has just released their brand new book The Ultimate Guide to Text and Phone Game (click here to get it) and it's hotter than Megan Fox wearing four sweaters

I think a lot of guys have been waiting for a comprehensive program on text and phone game and Nick Savoy's company has delivered with the help of instructors Braddock and Mr M…
Here's an interview with Savoy where he gives some tips for phone and text messaging game… along with some juicy details about the new The Ultimate Guide to Text and Phone Game ebook…
The name of the book speaks for itself, but can you give us an idea what we can expect?
Sure. We have noticed from years teaching Love Systems that most beginners and intermediate guys all run into the same problem: turning phone numbers into dates. They start to get good at building attraction and getting phone numbers, but these phone numbers don't go anywhere.
We see the same topic over and over again. Guys getting phone numbers but the women never respond to their calls and/or text messages. So we saw a challenge to fix this problem and Braddock took the initiative by writing The Ultimate Guide to Text and Phone Game with co-editor Mr M and help of more Love Systems instructors.
The book has over 160 pages of content on how to turn phone numbers into dates and preventing flaky phone numbers. We address a lot of commonly asked problems when it comes to phone and text game, including:
- What is the best way to ask for a phone number?
- Should you call or text first?
- What should I text a girl for the first time?
- When is the best time to call a girl?
- What are some of the do's and dont's of calling and texting?
And many more. You can read some text message interactions our team of instructors has had that led to dates. We also have a lot of unpublished stock text lines, role plays, and techniques to sexualize a text conversation.
==> Click Here To Learn More About The Book <==
What is the most common mistake most guys make with phone and text game?
There are a bunch of them but I will give you two. First, a phone number in itself is not worth much. It is merely a tool you can use to meet up with the girl you are interested in. When you want to seriously date a woman, your goal should be to start a sexual relationship as soon as possible. Whether you take her home the same night from the bar or from your first date, start that sexual relationship as soon as possible. Like Jeremy Soul says, a relationship does not start till you two have slept with each other.
So getting a phone number should not be one of your goals or something you want to settle for. There are exceptions of course like when she is the designated driver for her three friends or when you meet a woman in the day time. In the latter case you will most likely settle for a phone number and then go on a date. However, in both cases if you have the chance to push the interaction that could end in sleeping with each other, take it.
Another common mistake is not making plans when you get the phone number. A lot of guys will say something like "let's hangout" or "let's go out sometime" and then go for the phone number. At that moment, she might have wanted to hang out with you or gone out with you but then the next day she might not feel the same. Instead, before you get a woman's phone number you should try to set plans with her to go out. So you could say something like "What days are you off? Thursday.perfect. Let's go out Thursday night for some drinks." As a result of setting up the date you then get the phone number.
Setting up a date is like a transaction and the receipt of the transaction is the phone number. Just doing this will reduce the amount of flaky phone numbers.
Can you ever turn a flaky phone number into a date?
Short answer: yes. In The Ultimate Guide to Text and Phone Game book, Braddock explains his Dynamite Theory how you can turn flaky phone numbers into dates.
The basic idea is that every girl will have to be treated differently based on how she initially responds to your phone calls and/or text messages. If the girl is very responsive you want to meet up as soon as possible.
On the other end of the spectrum, if the girl does not respond to your first call or text message you need to adjust your phone & text game. You need to slowly increase the intensity and frequency of communication (all explained in the book with stock field tested texts and voicemails).
If there is one piece of advice you could give a new guy for tonight, what would it be?
Don't settle for the phone number. Push the interaction as far as you can. Once you really know there is absolutely no way you can take the girl back home, only then try to setup a date and get her phone number.
For more information on the new book
The Ultimate Guide to Text and Phone Game, Click Here.