The Ultimate Guide To Text And Phone Game Review
The guys over at Love Systems were nice enough to send me a review copy of their new "The Ultimate Guide To Text And Phone Game" (click here to get your copy).
I got my hands on it a week ago, thus giving me enough time to read it by now.
So here's my review of it…
The Ultimate Guide To Text And Phone Game Review
Introduction: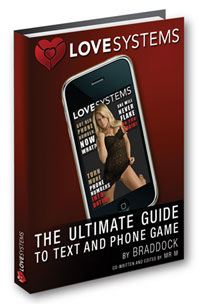 Let's face it… exceptional phone game is CRITICAL to bridge phone numbers into dates…
Due to my anxieties, I spent my 20s avoiding it… I just partied 5 nights a week and had drunken one night stands…
That was fine… until I got a *real* job (and an OWI)…
I realized that I needed to get over my anxieties (a topic for another day

) and learn how to communicate to women over the phone effectively…
I was AMAZED by the overall absence of phone and text game material in the seduction community…
What existed was brief and rigid…
Why the void for such an IMPORTANT topic? My guesses are…
- It's not as "glamorous" of a topic as "approaching" and "same night lays"…
- It's a TOUGH topic to tackle because of the many variances and complexity
So I pretty much learned by trial & error… and it was a royal BITCH!!!
What's In It:
I've always found Love Systems products to have solid advice….
And after reading The Ultimate Guide To Text And Phone Game, I'm quite impressed… it's up there with the Magic Bullets ebook in regards to systematic structure, quality and value…
Braddock and Mr M, the authors and fellow Love Systems instructors, did a great job with it…
There is some material pulled straight from public forum posts and Magic Bullets, but overall it's a well put together system full of original material that covers all bases regarding text messaging and phoning women…
I would go as far as to say it is the MOST comprehensive program I've seen regarding phone and text game…
If there is a question that you have about phone or text game - it's probably covered in this book…
Here's a few example questions that are answered in detail…
- What is the best way to ask for a phone number?
- Should you call or text first?
- How do you ask girls out via text messages or over the phone?
- What do you do when a girl flakes on you?
- When is the best time to call a girl?
- If I get a voicemail what should I do?
And don't worry, there's PLENTY of examples given to help you!
Get your copy of it and you'll see what I mean…
Dynamite Theory:
It seems like with every new Love Systems product, it is mandatory that a new "model" or "theory" with a cryptic name be introduced…
Magic Bullets had the "Emotional Progression Model"… Routines Manual Vol. 2 had the "Triad Model"…
…and The Ultimate Guide To Text And Phone Game has the "Dynamite Theory".
So what is this "Dynamite Theory" in plain English?
It's a system for calibrating your text and phone game based on the level of attraction you have with the girl…
There's 3 different "fuse" lengths: short, medium and long…
"Short" means there is a HIGH level of attraction established… "Long" means there is a LOW level of attraction…
You don't want to use "short fuse" game on a "long fuse" girl because you're just going to get flakes…
…And if you use "long fuse" game on a "short fuse" girl, you'll make her "short fuse" long…
The "dynamite" analogy is a bit cheesy, but the underlying concept is pure gold…
This ties back to my mention that most of the previous phone game products were "rigid"…
The Ultimate Guide To Text And Phone Game is more "flexible", giving you 3 paths to follow in order to get to your goal of an in-person meet-up…
Conclusion:
Phone and text game is CRITICAL to become success with women and this is ebook to get if you are looking for help…
I recommend The Ultimate Guide To Text And Phone Game… keep pumping out high quality material like this Love Systems!