These Types Of Clothes Are Preventing You From Getting Laid…
Do you wear clothes with pop cultural references on them?
Maybe a t-shirt about a TV show or movie that you like…
If a hot girl sees you wearing it… what does she think of it?
Does it turn her ON… or does it turn her OFF?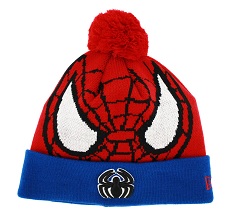 Let me tell you a story about my Spider-Man stocking cap...
I was a sophomore in college and I was hanging around a buddy's dorm room…
His girlfriend's friends were coming over… and they came sooner than I expected…
I was still wearing a Spider-Man stocking cap with a fuzzy ball on top…
I thought it was "cool"… a fun, retro item with pop cultural implications…
The girls were hot as hell… and I remember one of them seeing my hat and making a snarky comment…
I first thought "what a bitch"… but then I came to terms with myself…
No woman would consider me a sexual candidate wearing a dorky super-hero hat…
Here's what you need to do to prevent this from happening to you…
Weed out the unflattering "nerdy" clothes from your wardrobe… or else push them to the back and only wear them in appropriate occasions…
This is even more important if you are over 25…
Wearing a "beer pong champion" shirt at that age is kind of pathetic…
Look good, feel good, and girls will be attracted to you…
That being said, anyone want to buy a slightly used Back To The Future t-shirt?

It's casual,
Mack Tight
P.S. - Now's a great time to sign up for my FREE newsletter… I'll send you a crap load of free pickup artist advice ebooks and audio programs.