3 Dating Tips I Learned From Watching "Tiger King" on Netflix
I watched the Netflix docu-series "Tiger King" and I thought it was trash..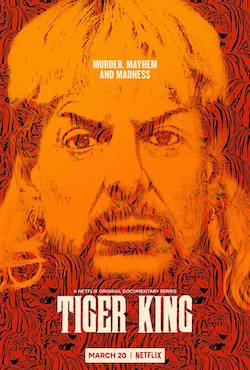 I kept waiting for them to introduce a person that I could cheer for..
But they all ended up being total scumbags..
Not all was lost, because there were certain dynamics in the show that got me thinking..
So here's my 3 things I learned from watching Tiger King that relates to dating..
1.) Find a passion that women are also passionate about
The two main guys used their passion for tigers to attract people they were attracted to. Joe Exotic was gay, so he got young guys who loved tigers. Bhagavan Antle aka "Doc Antle" used it to attract young hot girls. He dated them and tried to convince them to get breast implants.
So am I suggesting you buy tigers? No! These guys are scumbags..
But I do think you should find careers and hobbies that women are also passionate with.
Join a sand volleyball league. Become a bar-back so you work with attractive waitresses and bartenders. You'll also meet attractive clientele.
You are limiting yourself if you are a computer programmer and your hobbies are watching football and playing Playstation 4.
2.) Dress to get attention
The Tiger King had flamboyant shiny shirts, a multi-colored mullet and piercings. The old guy with the bandana and flat-billed Oakley hat, Jeff Lowe, looked like a wannabe badass biker gang member. Did they look like douchebags to you? Probably. Were they dating out of their league? Fuck yeah! The biker dude had a hot wife that was half his age.
In the old days, a dating coach that went by the name "Mystery" called it "peacocking". Another dating coach that went by the name "Brad P" said to dress as one of the "6 sexy stereotype that women are attracted to".
3.) Be ambitious
I can set on my ass and type on my computer and say "these people in Tiger King are all assholes".. but I can't deny they are ambitious. They built parks. They train fierce animals. They shoot videos for their social media. These people worked hard.. even the manipulative people on top. They turned their dreams into reality. A lot of what they did was scummy, but I admire their drive nonetheless. Women are attracted to men who are ambitious. Men who pursue their dreams. They aren't attracted to whiny guys who set on their ass and who are all talk.
——————————–
So there you go, I got lemons and tried my best to make lemonade out of this shit show..
I do think the show capitalized on the fact that it was released during the height of this pandemic. People had nothing to do but watch Netflix. So maybe that's something else you can take away from it. Make the best out of this pandemic. You might not be able to go out and meet new women yet. But you can study up so your ready when that time comes.
I highly recommend you get my free newsletter on men's dating advice. It's a great place to start if you want to become better with women, along with reading my other blogs here.
You can sign up for my free men's dating advice newsletter at: http://www.eseduce.com/newsletter. I'll even send you some free MP3's of my interviews with some of the world's best dating experts, including one with Brad P who I mentioned earlier in this blog.
It's casual,
Mack Tight