TMZ features Mystery of VH1's 'The Pickup Artist' on their "'MEMBA THEM?!"
If you're new here, you will want to sign up for my newsletter to get FREE dating ebooks and mp3s along with exclusive seduction tips and videos. Thanks for visiting!
TMZ routinely does a "'Memba Them?!" feature on their site where they show a picture of a pop culture icon of the past that people haven't seen in a while. It basically consists of an old picture of the star with a blurb about what they did back in the day to be famous. Then they show a current picture along with an update on what they're up to now or a snide comment.
Today, they featured Mystery (AKA Erik Von Markovik) who was the subject of Neil Strauss's book "The Game: Penetrating the Secret Society of Pickup Artists", author of "The Mystery Method: How to Get Beautiful Women Into Bed", and former host/judge on VH1's 'The Pickup Artist'.
It starts with a "before" picture of Mystery circa 2007 with the text:
Mystery… is best known for his awesome accessories and smooth moves on the short-run VH1 reality show…
Fair enough.. but are they going to be diplomatic or assholes with the "after" picture?
After clicking a link, you then see a less than flattering screenshot from a recent YouTube video he was in. With the following text.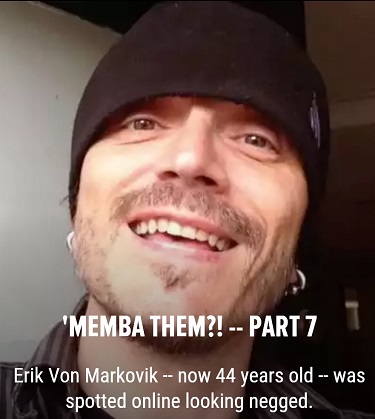 Mystery " — now 44 years old — was spotted online looking negged."
Oh TMZ, you so funny! You and you're "newsroom" crew snark so hard motherfuckas wanna fine you. You went with the "neg" jab, but no smart ass comments about "fuzzy hats" or "peacocking"?! I'm disappointed Harvey!
Idiots…
Regardless, I've seen recent videos of Mystery and he's holding up well for being in his mid-40s.
Check out his "The Mystery Method: How to Get Beautiful Women Into Bed"Mystery Method" book at Amazon.. it's probably the most popular "mens dating advice" books ever made.
Otherwise, subscribe to my free newsletter for mens dating tips sent to your inbox.
It's casual,
Mack Tight