Tony Robbins "Breakthrough" TV Show FAILS (Cancelled!)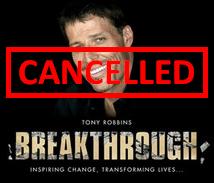 Is it bad that I enjoy seeing Tony Robbins FAIL?
(If you don't know who Tony Robbins is… he's a big self-help motivational speaker who has connections with pickup gurus like David Deangelo and Sean Stephenson)
Like self-help? Wanna get better with your dating life? Get free ebooks by joining my newsletter…
It only took just two abysmal episodes for NBC to drop the axe on Breakthrough With Tony Robbins…
The ratings were HORRIBLE!
It had just 3.125 million viewers for its premiere with a 0.8 rating with adults 18-49…
That's down nearly 70% with adults 18-49 from the premiere of "Losing It with Jillian"…
He got his ass kicked by "Losing It with Jillian"?!?
EMBARRASSING!!!
If that wasn't bad enough, the second episode had a 18-49 rating of just 0.7…
To throw salt in the wounds, NBC is replacing the last 4 new episodes with repeats of "Minute to Win It"…
So you might be asking, where does NBC burn off the remaining episodes of cancelled SUMMER shows?
Tony gave the answer on his Twitter account (follow me on Twitter)…
He said they'll eventually appear on one of the many NBC cable channels…
Does NBC own Lifetime?
Because that would be a PERFECT fit…
Tony's show was so sappy it made my balls ache… just like one of those cheesy Lifetime movies…
It tried to achieve that "feel good" high that you get with other reality shows like Extreme Makeover: Home Edition and Undercover Boss…
But instead, all you were left feeling was that Tony Robbins is a total DOUCHE…
Here's my recap of the episode I saw…
"Tony & Tina had fallen into troubling financial times… so Tony Robbins flew them to his billion dollar estate in Fiji and gave them 15 minutes of the "good life" and made them do lame "extreme" activities that were supposed to have some vague correlation to fixing their problems… then he hugged them, disenfected himself, & booted their ass back to their crappy lives and partied with his "furniture""…
(Did anyone get that "furniture" reference?! Hint: SOYLENT GREEN IS PEOPLE!)
Any way, if you want your Tony fix… you're gonna have to get it at Amazon now…