Tucker Max Interview about Getting Girls and The Pickup Artist
Tucker Max is a 'fratire' humor author who writes "true" stories involving alcohol, sex, bodily functions and other "debauchery"…
A while back, he heavily promoted his movie "I Hope They Serve Beer In Hell"…
During a press interview with a Harvard newspaper reporter, he took some jabs at Mystery and "The Pickup Artist"…
Here's an excerpt…
Interviewer: According to legend, the average Harvard student has sex with 0 – 1 partners during his or her time at Harvard. That's about your average per scene in the movie. What would you say to Harvard students to increase that average?

Tucker: Have more sex.

Interviewer: Come on, these kids need help.

Tucker: Find someone who wants to have sex. And then have sex with them. Do you want to help you come guide it in? It's not that hard. If you want to fuck, go fuck.

Interviewer: So your new book is called "Assholes Finish First." What would be your advice to all the nice guys here at Harvard, the ones reading The Game or watching The Pickup Artist.

Tucker: No one's watching The Pickup Artist. You have friends who watch it?

Interviewer: Yes.

Tucker: That's probably why they can't have sex with anyone. They're taking advice from a fucking weirdo who wears a top hat and goggles.

Interviewer: And eyeliner.

Tucker: Even better. But no, some guys can pull off wearing eyeliner, like musicians.
Ironically, a lot of guys in the seduction community seem to go out of their way to suck Tucker's balls any chance they get…
In fact, even David Deangelo did a very tepid Interview With Dating Gurus with him for his monthly Double Your Dating subscription program…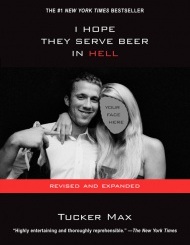 Personally, the only thing that really impressed me about Tucker was his guerrilla marketing tactics…
The guy knew how to get a million dollars worth of buzz without spending a dime…
Of course, all that publicity didn't do much for his movie… it flopped and lost millions…
I guess The Pickup Artist wasn't the only thing people weren't watching

Oh well…
If you want to read drunken tales of sex and debauchery… check out his books at the links below…
Start Here~~> I Hope They Serve Beer In Hell (Book #1)
* Assholes Finish First (Book #2)
* Hilarity Ensues (Book #3)
* Sloppy Seconds: The Tucker Max Leftovers (Book #3 1/2)
His Movie~~> I Hope They Serve Beer In Hell (DVD / Blu Ray / Rent / Download)
It's casual,
Mack Tight