Tyra Banks Show "The Secret Code of Men" Episode with Love Systems' Savoy and Braddock PUA
The Tyra Banks Show Love Systems episode with Love Systems' Savoy and Braddock is finally airing this Friday, July 17th (UPDATE: Watch the Tyra Banks Love Systems video here).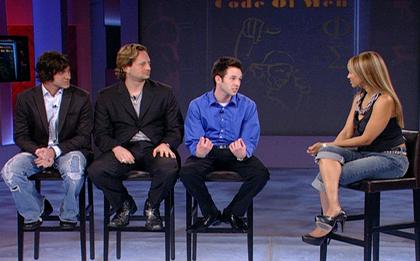 The episode is called "The Secret Code of Men" and involves trying to crack "The Bro Code" that men live by. I can only imagine this is a reference to the rules created by the character Barney Stinson, played by Neil Patrick Harris, on the CBS TV show "How I Met Your Mother".
Here's the description of the episode:
Tyra speaks with the owner of "Love Systems," who claims to teach men how to approach, attract and seduce any woman they desire. Then, his system is put to the test when Tyra's cameras follow a program participant. Tyra then speaks with a "Bro Code Panel" in an attempt to expose all the unspoken rules that men live by — and women know little about. Plus, Dr. Michelle shares some tips from her new book on dating.
The Love Systems crew appear to have gotten top billing in this episode, which also features Finesse Mitchell, Matt Titus and Dr. Michelle Callahan.
Remember that the Tyra Banks Show is syndicated so it appears on different channels at different times from market to market. For example, in Milwaukee it is on at 11pm on the independent TV station WMLW.
If you want to start learning some of Love Systems material now, I recommend checking out their Magic Bullets ebook. It covers many areas and is a great introductory book. Click here to get it.
Their Love Systems Interview Series tackles individual topics in greater detail using the Love Systems instructors with the best expertise in each topic. Click here to learn more.
Finally, they have two unique specialized products, the Routine Manual Vol. 2 for those looking for examples of highly productive routines to use on women (click here to learn more) and the Love Systems Relationship Management DVD program for those looking for how to better handle their relationships with women (click here for free sample videos from it).