Ultimate Natural Game by PUATraining Review
If you're new here, you will want to sign up for my newsletter to get FREE dating ebooks and mp3s along with exclusive seduction tips and videos. Thanks for visiting!
Ultimate Natural Game was just released by PUATraining today…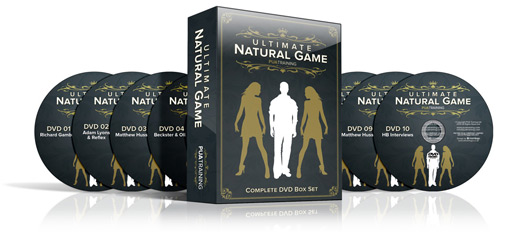 "Ultimate Natural Game" is the new highly anticipated 10 DVD program featuring the PUATraining crew including Richard LaRuina AKA "Gambler", AFC Adam Lyons, Beckster, Matt H, Kezia and Ollie…
It is over 15 hours of footage that covers all the natural attraction material that they teach. So if you couldn't make or afford a bootcamp then here is your best alternative…
There are only 1000 copies and it will be available for just 7 days so click here to get your copy now…
As far as the price… all I can say is that you will likely be pleasantly surprised. It is $200 less than similar programs that have been recently released…
On top of that you get 30 days to try it out free before you will even get your first partial bill (you will have 3 monthly payments so you won't even have to pay for it all at once)…
Here's a preview video for the program…
Yes… that was a pretty worthless trailer…
But it looks like the program includes seminar footage, demonstrations and infield footage along with some added "eye candy"…
…"The HBs"… hilarious!
I'll update this entry once I get to fully review it all…
But by then it will be sold out so I suggest you click here to get your copy while you still can…