Use *THIS* Easy Icebreaker To Talk To ANY Woman (ABSURDLY Simple!)
Do you have problems breaking the ice with hot girls in the store? What should you say first to get the conversation going?
In this quick article, dating expert Vin DiCarlo gives you a simple icebreaker you can use the next time you're out shopping.
---
Meeting women wherever you go isn't hard at all, as long as you know how to put icebreakers to use.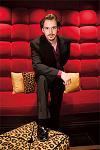 Have you ever seen a girl in public and got goosebumps?
No, she didn't scare you to death, but her face was so damn gorgeous or her ass was so epically round that you just HAD to talk to her.
You know what I'm talking about – that chick whose image stays in your mind for the rest of the day.
That chick you WISH you had spoken to, but DIDN'T.
You simply didn't know what to say, and it felt HELPLESS.
That's where icebreakers come in.
Icebreakers aren't rocket science.
They're just simple words that break the ice and let you make a CONNECTION with a total stranger.
For example, say you're at the grocery store and standing in the checkout line. This is primetime for meeting women. HOT women that are as ripe and ready as those bananas you're about to buy.
You know those tabloids that are strategically placed in checkout lines? The National Enquirer, The Sun, and so on?
You may not buy them, but they can be very handy as icebreakers.
Let's say you finished putting your items on the belt and see this hot blonde come up next in line. She's fresh out of the gym, has her hair in a sexy ponytail and is wearing those skintight yoga pants that'll make any man hard in an instant.
Now, you have to think fast, so take a look at the tabloids and pick out a popular topic.
Break the ice by saying something like this: "Wow, did you see Kim Kardashian is pregnant? I wonder how that kid will turn out!"
That's a silly, simple icebreaker that will at least get her talking.
Once your foot's in the door, just ask her these 3 questions and I GUARANTEE you she'll be picking up those yoga pants off YOUR bedroom floor in the morning.
==> These 3 Questions will get you ANY Girl! <==
-Vin DiCarlo