VH1's "The Pick Up Artist" Season 2 with Mystery is CONFIRMED FINALLY!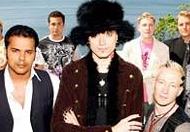 You heard it here first! It has been a long time coming but a second season of "The Pickup Artist" is finally confirmed with an article by Amy Argetsinger and Roxanne Roberts on the Washington Post web site.
Apparently Mystery and a VH1 producer were scouting out Washington D.C. bars on Saturday night to see if it could be the potential setting for the second season of The Pick Up Artist on VH1. If you recall, season one was based in Austin, Texas.
Maybe after seeing the Halloween Saturday Night Live skit, Mystery should hit up Bill Clinton in regards to the sarging potential of the Nation's capitol.
Here is the full text regarding Mystery of Venusian Arts:
Hey, isn't that "Mystery," a.k.a. Erik von Markovik, that creepy guy from the VH-1 show "The Pick-Up Artist," exercising his charms in the second-floor bar at Madam's Organ Saturday night. The 6-foot-6 swordsman (who also inspired the seduction how-to book "The Game") came in wearing aviator glasses, a full-length fur coat and his hair in a bun; left shortly before closing "with four to six women," said a spy. (Lucky girls.) His wingman, supposedly a VH-1 producer, told folks at the bar they were checking out D.C.'s pick-up potential.
There it is! I may have crossed the t's and dotted the i's but if that isn't proof that there will be a season 2 from a reliable source I don't know what is.
I have a feeling it will shoot in late Spring or early Summer and air about the same time it did last year. If they do not have their contestants already I would expect them to have auditions real soon.
Make sure you also subscribe to this blog feed or sign up for email updates to make sure you get the newest Mystery and pick up community news first in the future!
Mystery and Matador along with Lovedrop have just released the Venusian Arts Revelation. It is an update and expansion of Mystery's older book.
Maybe you want to go all out and take a Venusian Arts bootcamp instead…
You can also download The Pick up Artist.