White Casio G-Shock Watches - Why Is Every Celebrity Wearing Them?
If you're new here, you will want to sign up for my newsletter to get FREE dating ebooks and mp3s along with exclusive seduction tips and videos. Thanks for visiting!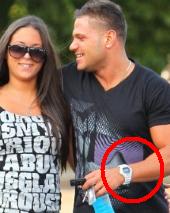 Let me be honest, I'm not the most fashion savvy individual…
There's no Rodeo Drive in Milwaukee…
A couple years ago, I was blindly blasting Adam Lyons & David Wygant for wearing v-neck t-shirts…
Little did I know…
Now, I'm confused with these white plastic digital watches that everyone's wearing on TV…
I first saw Ronnie on Jersey Shore wearing one of these bulky watches…
Then, when I saw Eminem wearing one in his most recent video… I realized I was in the outside looking in…
So I did my homework, and found out that they are Casio G-Shock watches (check 'em out here)…
I remember back in high school when the nerds who got beat-up on a daily basis usually wore plastic Casio digital calculator watches…
Now cheap looking plastic Casio digital watches are COOL?! WTF?
These "cheap looking" watches run around $100…
There's even more "exclusive" versions that are co-branded by companies like Bathing Ape (AKA BAPES) that are highly sought after by collectors and go for several hundred dollars…
PURE CRAZINESS!
Now, I bought a fashionable analog Citizen Eco-Drive last year that I have practically NEVER worn because I HATE wearing watches…
But for some reason, I want to buy me one of these plastic white Casio G-Shock watches (yeah, I know they come in different colors too… but I want a white one dammit!)
I really can't explain why…
Must be social conditioning or media peer pressure or something

If you want to learn more about them, or read some reviews…. here's an Amazon link to find out all that…
What do you think of them?