Window Shopping For Women Interview: Part 2
If you're new here, you will want to sign up for my newsletter to get FREE dating ebooks and mp3s along with exclusive seduction tips and videos. Thanks for visiting!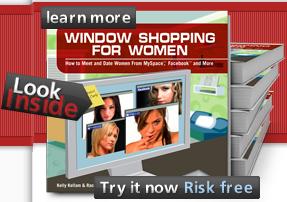 Check out part 1 of the Window Shopping For Women interview now if you yet haven't.
Here's part 2 of the interview with Race where he gives more info on MySpace and FaceBook game…
______________
Race, what kind of success did you have with women before getting great at meeting them using social networking sites?
Well I wasn't too shabby. I had a decent amount of women in my life but not nearly as many as I wanted. My goal was 3 new dates a week. I had to go out 4 or 5 nights a week to achieve those results and even then I didn't always make it.
Now that Kelly has taught me his system for meeting women on social networking sites like Facebook and MySpace it's not uncommon for me to have a new date every single night of the week. Sometimes 2 in a single day. The secret is meeting women online allows you to leverage your time so you can meet as many women as you want to.
Do you prefer Myspace or Facebook more? What are some of the differences of each?
I will always have a special place in my heart for MySpace since that is where I first learned this system. Recently I have been using Facebook a lot and am getting just as many dates from there. In fact, I am meeting a new girl tonight from Facebook. I'll break down the differences as I see them:
MySpace
Pros:
- Highly customizable which is useful for showing off your attractive qualities
- Browse feature is easy to navigate and very intuitive
- The most popular social networking site on the planet (over 250 million people)
Cons:
Since there are so many people girls get hit on much more frequently
Facebook
Pros:
- Highly targeted to the college crowd
- Integrated chat feature
- Since it is more private girls don't get hit on as often
Cons:
- Browse feature is harder to navigate which makes it more difficult to find quality girls
- In general, girls take longer to reply
My suggestion is since they are both open to the public and are both free, get an account on both sites. Our system shows you how to set both profiles up step by step so you can attract women on autopilot.
Can you show me a sample interaction you've had with a girl on Facebook?
Sure, no problem. Here is a girl I met a couple of months ago:
Subject: I'm confused…
From: Race
Date: Jan 12, 2008 12:59 PM
are you shy, or something?
-Race
——————————————————————–
From: Her
Date: Jan 13, 2008 11:16 PM
A little… why?
——————————————————————–
From: Race
Date: Jan 14, 2008 12:01 AM
well I've been on MySpace for a while now and you still haven't said hi. That's a little rude don't you think?
——————————————————————–
From: Her
Date: Jan 14, 2008 10:53 AM
I would never be rude. Did you say hi to me? Your page is very interesting…
——————————————————————–
From: Race
Date: Jan 14, 2008 12:13 PM
my page is interesting like how..weird???…are you being rude again????..haha j/k We'll hi

Have you seen the Secret?
——————————————————————–
From: Her
Date: Jan 14, 2008 7:31 PM
I have seen the Secret and I've read it. How do you feel about it? And what's your name by the way? What made you write me?… I'm glad you did.. I'm intrigued for some reason… Hope you're having a great night!
——————————————————————–
From: Race
Date: Jan 14, 2008 9:37 PM
my name is Race. I have watched, read and worked with some of the people in the secret. I agree in the principles but am wary of people who take it to the far extremes so they no longer have a foot in the "real world" so to speak.
What are you view on it?
——————————————————————–
From: Her
Date: Jan 15, 2008 5:14 PM
It's nice to meet you Race (even though it's not in person)! I completely agree with always trying to think positive and finding the silver lining in everything that you do. I know from experience that a positive attitude can make a world of a difference! But you're right, it's gotta be in moderation. Some people take it way too far! So you're from New Mexico, right? Do you live in Vegas now?
——————————————————————–
From: Race
Date: Jan 15, 2008 5:38 PM
Why thank you kind woman..haha. You seem like a person who is at ease with herself…it is as rare as it is a pleasure to be around. Perhaps I am missing something but how in the world do you know I am from New Mexico? Are you stalking me…cause I am actually in the market for a new stalker…my old one is getting boring

And yes I do live in Vegas…going on 9 mo now. I moved here from San Diego/ New Zealand.
Have you ever been bowling at southpoint?
——————————————————————–
From: Her
Date: Jan 15, 2008 6:43 PM
lol… Doesn't your page say that your from there?? If not, I have no idea and now I am really confused! Maybe I am your next stalker and I didn't even realize it

So New Zealand, how long were you there and for what… if you don't mind me asking! Your pictures are amazing! And the photo comment that you left me is hilarious! So how do you like Vegas so far? I've never been bowling at South Pointe. Do you like it?
——————————————————————–
From: Race
Date: Jan 15, 2008 9:16 PM
I really don't think my page says it…at least I couldn't find it..but hey your the stalker with the excellent observation skills and sneaky info gathering tactics

I lived in New Zealand for 1yr total. First for university and then just to travel and bartend. Vegas has treated me well though the girls here are less than satisfactory…and say girls because they all act like little girls not women. Not sure if that makes sense to you.
I was asking about southpoint because me and my friends go bowling there every now and then and I thought you might like to come so I could kick your ass

——————————————————————–
From: Her
Date: Jan 17, 2008 5:20 PM
Yeah, I checked your page again too… I couldn't find it either!! Who knows where I pulled that one from??
So did you like New Zealand?
I understand what you're trying to say about girls in Vegas, but let me reassure you that these boys aren't much better!! Much different from the midwest! So why'd you pick Vegas as your next stop?
I would love to go bowling!! But to be honest, you probably will beat me. I'm not so good, but then again, I hardly ever fail to surprise myself!
Hope you're enjoying your evening!
——————————————————————–
From: Race
Date: Jan 17, 2008 5:27 PM
maybe you have latent psychic abilities…lol
I loved loved loved New Zealand!
I picked Vegas because I wanted to assist my buddy with his music and start a new company:)
well I am not the best at bowling either but I have a blast doing it. Shoot me over your # and we'll go in the next week or so. It is after midnight so you'll have to be a little bit of a night owl to keep up

ps have you ever tried hookah?
——————————————————————–
From: Her
Date: Jan 17, 2008 6:05 PM
That's so amazing! I can't wait to go to another country! You'll probably have to tell me all about it

So what kind of music does your buddy play and what type of company are you starting?
I AM a night owl with a day job, unfortunately;) But I'll see what I can do! My number is xxx*xxx*xxxx
And I've never tried hookah, but I would love to!
*****
It's just that easy…haha. Just kidding. It took us years to develop this system but we did all the hard work so other guys don't have to. There are many more sample interactions like this one in our Insider's Club so guys can get learn from them.
How easily can a guy implement your techniques and will they get old after a few months from other guys using them too?
The techniques we teach can be implemented rather quickly so that guys could be up and messaging girls almost immediately. We have a number of resources to help guys hit the ground running including our eBook, the forum and even an Online Game Mastery Video Training Course with over 130 minutes of interviews and real world demonstrations using screen capture technology.
As far as them getting old, we teach guys how to create their own material so they will be the only ones using it. In addition, our Insider's Club forum contains all our best material (openers, role-playing, games, conversational hooks, real life start to finish interactions with girls, techniques to make her want to give you her number, how to set up a date, etc) so that guys can get new material instantly as well as submit their ideas for review or help other guys out.
I watched your videos and I must say I'm very impressed. What is the fastest thing a guy can do to improve his social networking game?
The fastest thing a guy can do is, and probably the most important, is to set up his profile correctly to demonstrate all his attractive qualities. It is kinda like his very own commercial selling him to all the girls who come look at it. It's so important we dedicate over 30 minutes of our Online Game Mastery Video Training Course to Profile Design.
You have an eBook. What can guys expect?
Here is the cool thing. We are actually releasing not just an eBook but an entire system called Window Shopping For Women! With the purchase of the book you also become a member of our Insider's Club which includes a huge database of all our material and provides a place to get help if you get stuck. Members also gain access to a software application that we had to build out of necessity to keep track of all the girls we are interacting with. We are making it so that it is almost impossible for any guy to fail using our system.
Have you noticed anything else on the market, and how does it compare to yours?
Our niche of meeting women on social networking site like MySpace and Facebook is relatively untouched. I think I have seen a couple eBooks on the subject. I even bought one to see what they were teaching. It was sad. The advice would leave a guy just as frustrated as before he read it. On top of that there was no support in place to help guys when they had questions.
We truly want guys to have as much success as we have had. We want every guy out there to have as many quality women in their life as they want.
I've heard some girls are turned off by tons of women commenting on your profile, have you noticed anything to back that up?
Turned off isn't the word. Jealous is more accurate. When a girls sees comments from other girls of her same social standing/perceived beauty level she subconsciously accepts you as a dating possibility. It also makes her more comfortable with you. If other girls similar to her find you attractive and like hanging out with you then you must be ok.
It is a form of social proof. In most instances her competitive drive will kick in and she will want to be the one who steals you away from all those other girls. You become the prize she wants all to herself. It's a social status thing.
To learn more about this amazing method for meeting and dating women from social networking sites, visit Race and Kelly's website Window Shopping for Women to learn more.