Window Shopping For Women
If you're new here, you will want to sign up for my newsletter to get FREE dating ebooks and mp3s along with exclusive seduction tips and videos. Thanks for visiting!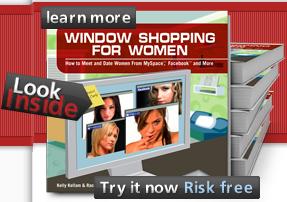 Boys and girls, Window Shopping For Women is yet ANOTHER seduction product that has been recently released.
It is Friday, I'm hyper as all hell, my attention span is shorter than that of a two-year old and I have no urge to try to blow smoke up your ass or twist your arm to buy this ebook so I'm going to make this short and sweet…
Product name:
Window Shopping For Women
Topic:
How to pick up girls on MySpace, FaceBook and other online services.
Authors:
Race D. (AKA Hatch) and Kelly
Price:
CHEAP!
If you are "cool" you will get your credit card in hand and click here to buy it… you are cool aren't you?