Word For Word Seduction Review - Does Blake Stevens Book Work?
I've been hearing a lot about a new video program promoted by the Two Girls Teach Sex people called Word-4-Word Seduction…
Apparently it's created by some pickup artist called Blake Stevens… I never heard of this dude before…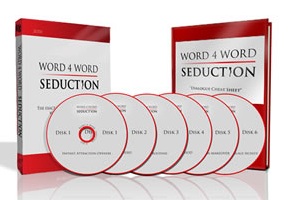 So does his advice work? Is it worth getting?
Here's my opinions and my Word-For-Word Seduction review…
Introduction
First, I never heard of "Blake Stevens"… yet, they claim he's some kind of legendary pickup master who has been training students for years…
If that's the case, someone please point me out to a blog or message board with prior information from this dude… because I have a feeling he was made up by a marketer…
The promotion for this program seems to consist of a Frankenstein-ish mash up of pickup jargon taken from the Mystery Method, Pandora's Box and Stealth Attraction…
At one point, he mentions "Attraction Indicators"… this sure sounds like a rip off of Mystery's "IOI's" aka "Indicators Of Interest"…
If I wrote a book… I might mention "peacocking" and give Mystery proper credit… but I wouldn't call it "flamingoing" and try to play it off like I invented it…
A lot of the pickup ideas in the program sound like concepts regurgitated from "The Game" ten years ago…
Do you want a program that's new and innovative from a well known PUA instructor who has paid his dues… or do you want a rehash of material that was released years ago from a no-name instructor?
Examples
Some of the material I read involved "kiss techniques"…
The one that stood out to me the most involved putting banana coconut lip balm on your lips and asking the girl if she wants to taste it… then you kiss her…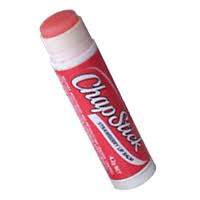 WTF?…. REALLY?!?
This technique is soooooooo f**king lame!
I thought only pre-teen girls wore fruit flavored chapstick?
The overall idea of having "kissing techniques" in general is f**king stupid….
A girl has to be both comfortable with you and sexually attracted in order to be kissed…
Once she is at that point, you don't need to telegraph your intentions with some elaborate choreographed routine… YOU JUST DO IT!
Also, there's no secret tactic that will magically accelerate things or let you skip steps…
She's not going to think…
"I don't feel comfortable around this guy and he doesn't turn me on… but I REALLY want to see what his banana chapstick tastes like so I'll throw caution into the wind and make out with him…"
How stupid does that sound?
Omega males and pussies use lame tactics to manipulate girls, maybe it'll get them a 'pity' kiss but it will never gets them laid…
Alpha males and real pickup artists build comfort, attraction and seduce girls into WANTING to be kissed… then they just kiss them, and MORE…
My Conclusion
In my opinion, this seems like a ripoff of PUA products already released…
And surprisingly, it's actually MORE expensive than the originals…
I recommend checking out these programs instead…
==> Pandora's Box by Vin DiCarlo - pickup girls by asking them 3 questions and then profiling them… Watch the free video here…
==> Stealth Attraction by Richard La Ruina - techniques to approach and attract women without rejection… Watch the free video here…
==> Any book by Mystery…
These guys all spent years coming up the ranks in the seduction community and are the real deal…
If you don't want to spend a dime, sign up for my free newsletter and I'll send you free ebooks, videos and mp3s on how to pickup girls…
I promise… my advice won't make you wear fruity chapstick or any bullshit like that

There you go…
If you still want to get or learn more about Word For Word Seduction… check out the sales page here…
And everything in this review is of my OPINION… take it as you want…
Hope that helped…
It's casual,
Mack Tight