Workaholics Adam DeVine & Blake Anderson Give Advice On How To Get Laid
There's two things that I love… 1) Comedy Central's Workaholics and 2) When stars give dating advice.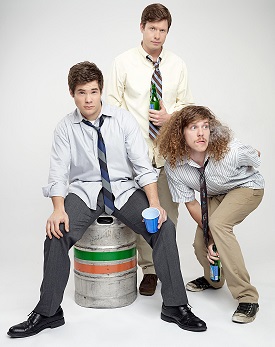 Thanks to an Esquire interview, those two things have come together like peanut butter and chocolate.
Here's what they said when asked for their advice on how to get laid:
Blake: "If you can get a place that has a semi-working hot tub then that's a start. Any time where I felt like I was getting sort of close to any sort of deal, it happened in a hot tub. Just make sure the water's hot. You need some steam so it clouds their vision, really."
This is really good advice. You have to consider "logistics" when choosing where to live. A hot tub is a great way to get a girl into a sexually stimulated mindset. You're both half naked in a small tub with warm jets of water gushing against your erogenous zones. There's a reason why every reality show has a hot tub and tons of alcohol… these two elixirs guarantee interesting TV!
Adam: "Be yourself. I had this three-week period where I wore this straw fedora. I thought it was what chicks wanted. And then it dawned on me that I was trying to be something that I wasn't so I took the fedora off. So be yourself. And wear condoms."
I recommend wearing clothes that get you attention. I really don't know if a straw fedora will get attention, or if girls will just think you're a douche trying to be trendy. Generally speaking, "be yourself" is shitty advice to give any man whose not getting the pussy that he desires.
My sole fashion goal is to invoke reactions from attractive girls. Most guys just try to "fit in". Fitting in doesn't stand out. Unless you're already a flashy dresser, "being yourself" is boring. Wear clothes that get positive results. Don't blend into the herd. You're not a zebra in the wild, you're a dude at a night club. A cougar pouncing on you is a GOOD thing!

What do you think of their advice? Are you a fan of Workaholics too?
You can go here to watch episodes of Workaholics…
And go here to learn weird secrets on how to get laid fast…
It's casual,
Mack Tight